Silent Love Retreat | with OM C. Parkin
Immerse in 10 days of Silence and Darshan
Thu. 27 July – Sun. 6 August 2023 | Monastery Gut Saunstorf – Place of Stillness
Every summer, the traditional Silent Love Retreat with OM C. Parkin takes place at Gut Saunstorf Monastery – Place of Stillness. This retreat gives you something that has become very rare and precious these days: an intense time with yourSelf in silence. Here, slowing down and pausing happen naturally.
In this sinking, maybe a whole new dimension of closeness with yourself opens up for you, and a silent love turns out to be what has always been in you. Alone and yet connected, you spend quiet hours with the other participants in the spacious park, enjoying meals together and simply being in a monastic setting.
"Stillness is our essence. We cannot make or acquire it. But we can get ready to be touched by the Absolute Stillness."
OM C. Parkin
OM C. Parkin
OM C. Parkin is a spiritual master of the Silent Tradition. For almost 30 years, he has been accompanying people on their inner path and leading them to the core of their true nature.
OM's work is based on the Perennial Philosophy, the highest teaching of awakening, which he also calls Inner Science. OM's teaching is based on the Eastern advaita tradition, as well as on the teachings of Integral Yoga of the Indian teacher Aurobindo Ghose. In his unique teachings, he combines the Eastern teaching of non-duality with Western experiential paths, such as Christian mysticism or the Fourth Way of Georges I. Gurdjieff. He also uses modern psychological and psychotherapeutic methods as teaching tools. The aim is self-knowledge through Inner Work, which ultimately leads to the knowledge of true human nature.
OM transmits his realisation of the Absolute in the form of discourses on Being, Darshan, and Inner Work, in addition to books and lectures. He is the initiator of the OM Foundation Inner Science and the publishing house advaitaMedia, focussing on wisdom traditions. He also is founder and director of the Mystery School Enneallionce – School for Inner Work, and the modern Monastery Gut Saunstorf – Place of Stillness.
Information about the programme
Darshan with OM C. Parkin
Twice a day, in Darshan with OM, you are invited to share everything that moves you, to ask questions and to deepen your experiences. OM will meet you exactly where you are on your path right now, leading you into the depths of your innermost being. Let yourself be surprised by the uncompromising and at the same time loving directness which works through OM and which ignites the tire of the heart over and over again. This fire is food for the soul.
Meditation in Absolute Darkness
This retreat offers the extraordinary opportunity to experience Darshan in absolute darkness. Far away from the visual stimuli of the outer world, you can let yourself falling into profound concentration and stillness.
Music Darshan
A particularly beautiful accent of this silent retreat is the musical accompaniment of the Darshans. The powerful musical highlight is a Music Darshan evening, which supports the energetic processes of these days.
Daily schedule
The times may be subject to slight changes. For each participant, approx. 1 h of Karma Yoga (collaboration in the house and kitchen) per day is part of the retreat.
7:30 – 8:00 am       Movement meditation
8:00 – 8:30 am       Meditation
8:30 – 9:00 am       Breakfast
10:00 – 12:00 am   Darshan (with English translation if required)
1:00 – 1:30 pm       Lunch
2:00 – 6:00 pm      Free Time
6:00 – 6:30 pm      Dinner
8:00 – 10:00 pm    Darshan (with English translation if required)
Special Highlight – Concert Manny
Integrated into this year's Silent Love Retreat will be a concert by the French band "Manny".
Manny is one of the last bands that set wisdom texts by the American spiritual master Lee Lozowick to music. These lyrics and the vibrancy of the musicians directly touch the heart and the dancing leg.
Practical information
Times
Day of arrival Thu. 27.7. :
Check-in for board & lodging: 1- 5 pm
Check-in for the event: 4- 6 pm
Beginning with dinner together: 6 pm
You can plan your departure on Sunday around 2 pm.
Price
Regular Ticket: € 750,-
Early-Bird: € 680,- (valid until 31.05.2023)
Payment
Until 31.05.2023 you can choose the early bird price of 680,- €, after that the full retreat price of 750,- € applies.
A reduction is possible on request.
For pupils, students and trainees, the participation fee is 600€ (on presentation of appropriate proof).
For people with a low income, 7 free places are available for participation in the retreat with a 30% reduction for board and lodging (accommodation in a shared room). Please contact us if you would like to take advantage of this opportunity.
We are grateful for early registration for our events.
Gut Saunstorf Monastery – Place of Stillness
Am Gutspark
D-23996 Saunstorf (near Wismar)
www.kloster-saunstorf.de
The modern Monastery Gut Saunstorf – Place of Stillness, located near the German city of Schwerin, is dedicated to retreat and contemplation. It invites seekers of every confession and tradition to rediscover their own inner stillness in meetings with OM C. Parkin, at events or simply in a time of introspection and meditation.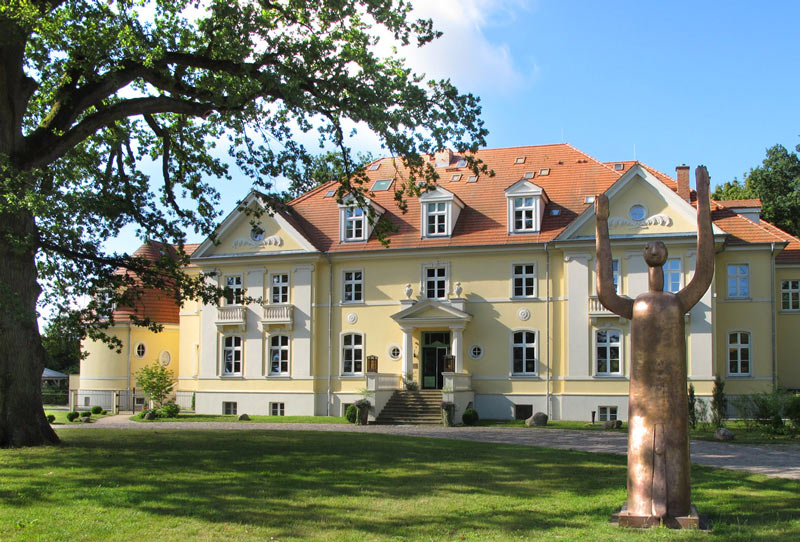 Additional information
OM speaks about the three veils which pose the main obstacles to recognising who we are. Further themes of this Darshan are judgementalism and what it needs to disarming the inner judge as well as the childish state of self-righteousness and how it is that we believe we can take justice in our own hands.
An invitation to all lovers of Truth.